Getting Started
Configuration
Configure Astro with Apple Search Ads.
Astro uses Apple Search Ads (ASA) to provide you with the most up-to-date information on keyword popularity. To extract this information you need to connect your ASA account with Astro.
To extract popularity data you need to have published at least one app in the app store.
Step 1: Configure an Apple Search Ads Account
Before using Astro for the first time, you must set up an account on Apple Search Ads (ASA).
You don't need to enter a credit card on ASA or launch a campaign to use Astro.
If you don't have an ASA account, you can create one at this link. If your country is not available in the list of countries, you can select the United States as your primary country.
To configure your ASA account, ensure that all of your campaign groups have a valid Apple Store Connect account associated with them, if even one of your campaing groups is not connected Astro may not work, in case of errors during login, double-check this point.
If you have never used ASA before, you probably only have one campaign group to cofigure.
Login to Apple Search Ads Advanced
Click on your account name
Click on 'Settings' on each campaign group
If the campaign group is not associated with a valid Apple Store Connect account, click on 'Link accounts'
Select a valid App Store Connect account for each campaign group, and click 'Save'
At the end of this procedure, a banner with the message "There's an issue with your billing information" may appear on the main page of Apple Search Ads. You can safely ignore it, it is just Apple asking you to add billing information.
Step 2: Create an App-Specific Password
To create an app-specific password, you can follow this guide.
Note: It may take up to 10 minutes for the app-specific password to activate. If Astro returns an error when you try to enter the password, wait a few minutes and try again.
Step 3: Login
Once the Specific Password app has been created, log in to Astro by going to settings, account.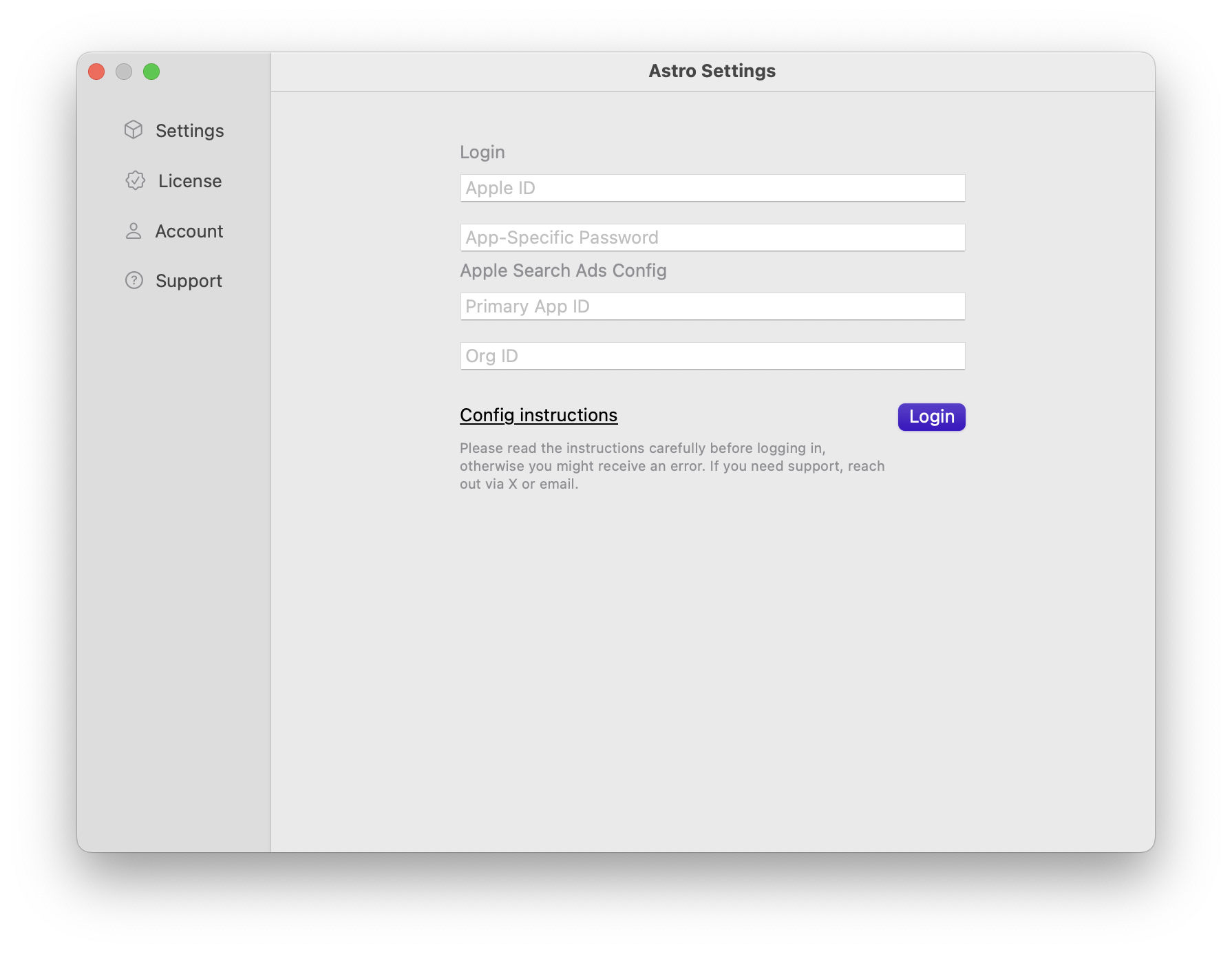 Still have questions? Write us an email.